LNG Danger To Our Communities TimRileyLaw.com 760-683-5898
Consumer Protection Attorney Tim Riley Warns About Liquefied Natural Gas
LNG Import and Export Terminals and LNG Proposals

Check If Your Community Has Been Targeted for a Liquefied Natural Gas Terminal
Communities are now facing the imminent peril of

Liquefied Natural Gas proliferation,

which would have a disastrous impact on our communities if we just sit idly by.

We welcome concerned visitors from Santa Monica,

*

Malibu,

*

Oxnard,

*

Port Hueneme,

*

Ventura,

*

Santa Barbara,

*

Long Beach,* and Humboldt Bay area in Eureka,* California, Baja California; North Spit Property, Coos Bay, Oregon, Astoria, Oregon, St. Helens, OR; Cherry Point, Washington; Mobile,*Alabama; Fall River, Hull

*

Massachusetts; Harpswell,* Perry, * Maine, Sears Island, Hope Island, Cousins Island (Casco Bay area), Maine, Pleasant Point, ME; Providence, Rhode Island; Crown Landing area bordering New Jersey and Delaware; Logan Township, Gloucester County, NJ, Belmar, New Jersey; Long Island Sound near the New York and Connecticut coast;

*

Philadelphia, Port Richmond, Pennsylvania; Maryland; Sabine, Louisiana, Lake Charles, LA; Corpus Christi, Texas, Port Arthur, Port Lavaca, TX, Galveston, Texas, Sabine, TX, Brownsville, TX;

Dundalk and

Cove Point, MD; Biloxi Gulfport Pascagoula, Bayou Casotte, Jackson County, Mississippi; Ensenada, Baja, Bajamar, Coronado Islands, Mexico, LázaroCárdenas, MX, Puerto Libertad, MX, and Gulf of Mexico; St. John, NB; Point Tupper, Nova Scotia; Goldboro, NS; Quebec City, QC, Rivičre-du-Loup, QC, Kitimat, British Columbia, Prince Rupert, BC; United Kingdom, Italy, Europe, Bahamas; and from all other communities threatened by LNG.

Opposition to LNG Works

*

Congratulations to the communities noted

(*)

above for stopping LNG. We are pleased that this website and our documentary film The Risks and Danger of LNG are helping communities worldwide in their battle against LNG. We have licensed public screenings to you throughout the nation and world, and we are very happy that the information we are providing through our film and website is assisting you in your victories and continued battles to stop LNG.

Click: LNG Opposition Works
February 8, 2009

Wall Street Journal

Bad Call "The conventional wisdom said that the U.S. would soon become a big importer of natural gas. The conventional wisdom blew it."

"To stabilize the market, Mr. Greenspan said, the U.S. needed to become a major importer of liquefied natural gas, or LNG. Moreover, he added, 'Access to world natural-gas supplies will require a major expansion of LNG terminal import capacity.' New facilities would have to be built in the U.S. to handle the expected surge in imports. Mr. Greenspan and the industry experts who shared this view -- and there were many -- couldn't have been more wrong. But within a year of his testimony, there were plans for 40 new or expanded LNG terminals under consideration in North America, according to a tally by the Federal Energy Regulatory Commission. By March 2005, the list had grown to 55.Today only six have been built, and most of those sit idle. Weeks pass between visits from a tanker full of frosty LNG. Even before the economic slowdown, it was clear the nation had ample natural-gas supplies. Large-scale imports simply weren't needed. And new reports suggest the U.S. won't need to turn into a massive importer of natural gas anytime soon. How did the conventional wisdom get it so wrong?"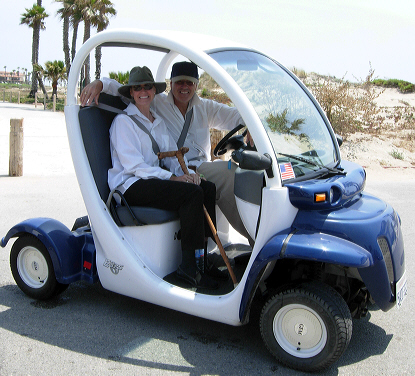 Riley's in their all electric car
Press Releases:
Editorial:
Other Resources & Links
https://www.savecascobay.org/websites.html https://www.harpswell.info/frwds/files/tim_riley.htm
https://www.greenfutures.org/projects/LNG/LNG2-9-04.html https://www.portersvillerevivalgroup.org/Links.html
https://www.savepassamaquoddybay.org/links.html https://www.rpalumni.org/rpcivic/civic.htm
https://www.columbiarivervision.org/vision/links.html https://www.wildcalifornia.org/pages/page-108
https://www.surfermag.com/features/oneworld/lngarticle/index1.html https://www.gsenet.org/host/lng-logan/
Recent Proposals Outside of U.S.
April 2007
Poland is to import Liquefied Natural Gas from Algeria Echorouk Al Yaoumi - Algiers, Algeria During the 15th world LNG conference held in the Spanish city of Barcelona, Poland said it would import liquefied natural gas (LNG) from Algeria
Shell initiates project development for LNG terminal in Fos-sur-Mer Shell Energy Europe and the Port of Marseille Authorities have agreed to initiate the development of a potential LNG regasification terminal in Fos-sur-mer. The project would have in its first phase a typical capacity of around 8 billion cubic meters of gas per year. This agreement adds to Shell's existing LNG project under development in Sicily (Ionio LNG) and the recently announced heads of agreement concerning capacity at a later stage of the Gate Terminal in Rotterdam in the Netherlands.
The Law Office of Tim Riley also provides Continuing Legal Education for Attorneys at
MCLEapproved.com AZ CA CO FL GA IL IN IA KY NV NY NC TN TX WA
Copyright Owner Tim Riley 2004
Any unauthorized downloading or distribution of this copyrighted material from this site or the linked sites,
Without the copyright owner's permission Is Strictly Prohibited